Welcome to our Renowned
Yoga School in Rishikesh, INDIA
The paradise of yoga is all set to make you fall in love with the divine and the traditional practice of yoga in the city, known as the Yoga Capital of the world. Akshat Yogashala is a registered yoga school in Rishikesh that is ready to take you through the journey of the pious practice of yoga with certified yoga teacher training courses and programs.
Best

Yoga Teacher Training

in Rishikesh, India

Rishikesh is a famous place for yoga and other spiritual activities. The place has a different aura that automatically connects you with the practice. Yoga Teacher Training in Rishikesh, India will surely be a challenging yet beautiful experience.

Opting for a Yoga Teacher Training in such a place will take you through a heart-opening journey where you discover your true self. The city is completely replete with the timeless the beauty of lush green nature, high mountains, and the pious river, THE GANGA.

Akshat Yogashala is one such school located in three beautiful locations of Rishikesh, Goa, and Kerala offering you a chance to learn yoga and let you explore the beauty of the practice. With the modern touch, we offer the traditional practice and experience, as originally shared by the Yoga Gurus.

Embarking on the city is your first step towards learning and gaining the knowledge & experience of yoga. Opt. for any yoga course or program as per your requirement and choice and discover the ancient science & spirituality of yoga.
Why Yoga Teacher Training In India?
India is a land of Gods. When you go through ancient Hindu scriptures and texts, then you'll find the mention of India as the most powerful place.
There are several stories associated with the place too. Yoga has its roots in the country and If you want to explore it to the fullest, then surely Yoga in India is something you should go for.
There are lots of options to choose from the courses and programs in yoga and other spiritual practices. Learn from renowned gurus worldwide and gain Yoga Alliance Certification which help you in starting your professional journey at a full pace.
Many sacred locations in India offers yoga teacher training courses and program, maintaining their authenticity and tradition. The most popular among all is the 200-hour Yoga Teacher Training in India.
You can spend your quality time in numerous yoga destinations in India with different courses available. Regardless of the program/course duration, you get a truly memorable experience.
Yoga Teacher Training Course in INDIA
What we offer for upcoming Yogis
Yoga Teacher Training Course in India is an opportunity to explore and experience real yoga in a traditional setting and support your personal practice. Course will give you a solid foundation to teach yoga asanas (postures), pranayama (breathing practices), meditation, yogic philosophy, and other related topics. The course will be led by experienced teachers who are experts in their field and will ensure that you receive the necessary attention and guidance to help you progress on your yogic path.
Click and discover our various courses, programs, and classes of yoga in the aesthetic location of Rishikesh, Goa, and Kerala. Start from any stage and reap the maximum benefits from the practice.
Yoga TTC in India
Yoga Teacher Training Syllabus
Yoga teacher training should provide you with a well-rounded education in yoga. In addition to learning about the history, philosophy, and benefits of yoga, you should also be taught how to properly align your body in each yoga pose. Explore the topics which you are going to learn throughout your magical journey of 200-Hour yoga teacher training in Rishikesh, India.
Here is the list of topics covered under the Yoga Teacher Training Syllabus at Akshat Yogashala.
Whats Included in the Course
24 days and 23 nights accommodation
Three Sattvic meals daily, along with juice and unlimited ayurvedic tea for the participants (No meals on Sundays)
Free Study material and three books
Yoga Training and Certification
Free pick-up and drop: DED airport only
One free Ayurvedic massage for 1-hour
Two Weekend excursions
One Cooking session
Toilet papers
Two towels to each student (to be returned at the end of the course)
Washing machine for laundry (access provided twice weekly)
Why Akshat Yogashala? is a Best Yoga School in Rishikesh India
Akshat Yogashala is one of the best yoga schools in Rishikesh India. The school offers a wide range of yoga courses and programs that are designed to meet the needs of all students. The school also provides a variety of facilities and amenities that make it one of the best yoga schools in Rishikesh India.
Akshat Yogashala has experienced teachers with a great level of professionalism.

Akshat Yogashala doesn't change the basic form of yoga and teaches it in its original form.

Akshat Yogashala is located in the tranquil destination of Rishikesh, India.

Akshat Yogashala offers various yoga teacher training courses and programs in India.
Y
oga Teacher Training Fees In India
Akshat Yogashala conducts yoga ttc in Rishikesh for students from beginner to master level and yoga retreats and other programs in the city.
Here are the detailed fees for Yoga Teacher Training in Rishikesh, India.
200 Hour Yoga TTC Cost in Goa
Yoga Alliance Certified
27 Days SHARED Accommodation
Daily Yoga classe
Daily Nutritious vegetarian meals
Weekend Excursion
Yoga Materia
Wi-Fi
Air-conditioner – $100 Extra
Private Room- $200 Extra
200 Hour Yoga TTC Cost in Rishikesh
Yoga Alliance Certified
24 Days SHARED Accommodation
Daily Yoga classe
Daily Nutritious vegetarian meals
Weekend Excursion
Yoga Material
Wi-Fi
Air-conditioner – $100 Extra
Private Room- $200 Extra
200 Hour Yoga TTC Cost in Kerala
Yoga Alliance Certified
27 Days SHARED Accommodation
Daily Yoga classe
Daily Nutritious vegetarian meals
Weekend Excursion
Yoga Materia
Wi-Fi
Air-conditioner – $100 Extra
Private Room- $200 Extra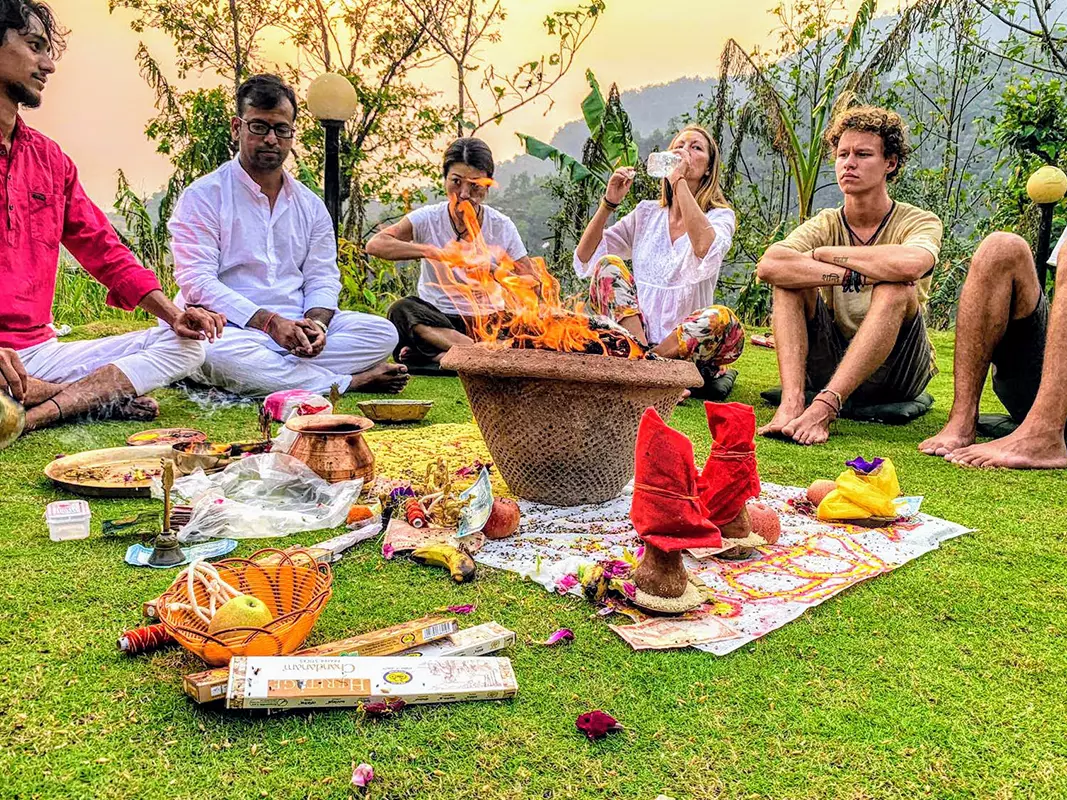 3,7,10 &14 Days Yoga Retreat In Rishikesh India
Best Yoga Retreat in Rishikesh
Lush greenery, the high Himalayas, the serene sound of the Ganga, and timeless positivity make Rishikesh, one of the best places for a Yoga Retreat. Besides being the perfect destination for a Retreat, a city is also an affordable option.
Yoga Retreat in Rishikesh is a healing holiday where you get to relax and rejuvenate in the blissful atmosphere of the city. Join the program with Akshat Yogashala and learn about yoga, meditation, and spirituality while exploring beautiful places in the city.
Now practice Yoga at your home/place at your convenience.
Online Yoga Class
Everyone deserves to learn yoga irrespective of the distance and situation and so we have started online yoga classes. The online class by Akshat Yogashala helps you in learn yoga from your home or your comfort place. The class shared authentic knowledge of yoga by professional and highly qualified teachers of our registered yoga school in Rishikesh.
You should not worry as teaching from distance doesn't let us compromise on the quality, curriculum and syllabus of yoga.
Yoga Teacher Training RYT 200 Certification, Yoga Alliance USA
200-Hour Yoga Teacher Training in India is the most chosen course by yoga aspirants all over the world. There are many reasons for this. The course can easily be opted for by yoga lovers having zero knowledge about yoga.
After the completion, they come out as a confident and certified teacher who is ready to teach it anywhere. RYT-200 or 200 Hours Registered Yoga Teacher Certification, affiliated with Yoga Alliance is given to the students after they successfully submit assignments and pass the exam.
Highlights of Yoga Teacher Training at Akshat Yogashala
Akshat Yogashala organised yoga courses and programs in three charismatic locations in India. These are Rishikesh, Goa, and Kerala. All are famous for their beauty and magical atmosphere. You will love to practice yoga in an open environment in all three cities. Apart from residential courses (200-Hour Yoga Teacher Training),
Akshat Yogashala also conducts online yoga classes for people who are not able to temporarily relocate despite being passionate and dedicated to yoga.
Akshat Yogashala in Association with Light House
Student Testimonial
Yoga Teacher Training Student's Review
We are confidently conveying and conducting yoga teacher training in Rishikesh, Goa, and Kerala because of the belief and love, we get from our students. These reviews by our ex-students are an example of this.
Teacher Rajat introduced me into Hatha yoga and helped me a lot also personally. I learned a lot not only about adjustment of the yoga asanas but also a lot about yoga philosophy which I think is very important. I learned that to be a yoga teacher doesn't mean I must be super flexible in body but more to be flexible in my mind and be able to share this knowledge with all my students. The role of the teacher is to help the students to improve their life. I know that I can't just stop with one certificate, I must continue study – it is a whole life journey. The most important what I learned is that "yoga is not an exercise but a life style". And I feel that now it is in my hand to introduce that into western world.
And honestly, Rishikesh is one of the most beautiful places I have been. Already missing having chai by the river.
Meeting Rajat, the owner of Akshat Yoga Shala has been life changer and a huge step in my yoga path. He is inspiring and the quality of the teaching is the best you can find. It's a mix of pushing you to go further in your practice and also very kind and benevolent when needed. I learnt so much about the yoga philosophy, the correct execution of the postures and so much more I can hardly describe! I really recommend if you want to go further in your yoga journey!!
Learning yoga with Akshat yogasala has been the most enriching experience for me . The time spent doing yoga with one of the most cherished moments for me where Akshat yoga classes manages to blend physical exertion to release stress calm my senses. they is not only a good trainer but a good human being..not to forget doing yoga classes with Akshat Yogasala just perfect for yoga class
Yoga Teacher Training Retreats FAQ
Below you'll find answers to some of the most frequently asked question. We are constantly adding most asked question to this page.
Can I know something about the meals offered?
Akshat
2023-02-13T01:15:27-05:30
Breakfast will typically have two fruits, fruit juice (packaged) and upma/poha/porridge/sprouts/idli. You will typically have one portion of dal, vegetable curry, chapatis, and rice, along with yogurt, during lunch and dinner.
Please be informed that there is no food on weekly off days, i.e., three days in the course.
Moreover, meat, eggs, alcohol, cigarettes, and drugs are strictly prohibited.